Press Release
NYCEDC, Women.NYC, and Maven Clinic Host Event to Address the New York City Childcare Crisis and Launch Childcare Innovation Lab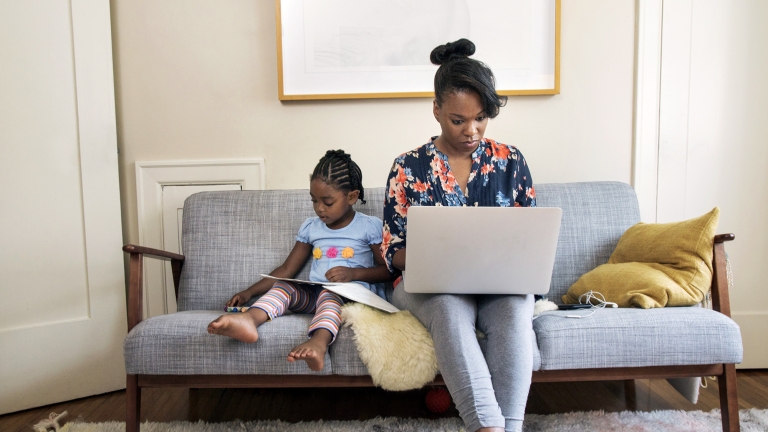 Virtual Panel Discussion Brought Thought Leaders across Government, Industry, and Academia Together to Discuss How Childcare Is an Economic Issue, Rather Than a Private Family Matter
NEW YORK, NY—New York City Economic Development Corporation (NYCEDC), Women.NYC, and Maven Clinic hosted "It's Not You, It's an Economic Crisis: Forging NYC's Path Towards Accessible Childcare" to present original NYCEDC research on the economic impact of a lack of access to childcare options in New York City and discuss best practices employers can use to support working parents.
Panelists, Faye Penn, Executive Director of Women.NYC, Sherry Cleary, University Dean, Early Childhood Initiatives at CUNY, and Monifa Bandele, Chief Operating Officer of TIME'S UP, discussed important solutions where both the public and private sectors can work together to address these challenges with New York Times reporter Alisha Haridasani Gupta.
In her keynote, NYCEDC newly appointed President and CEO Rachel Loeb cited original research from COVID-19 and the New York City Economy report from the NYCEDC Economic Research and Policy group that studied the effects of the pandemic on New York City's labor force. She used the forum to formally announce the creation of the Childcare Innovation Lab, housed under NYCEDC's Women.NYC. This working group will study the effects of childcare on New York City's economy , and families by catalyzing public-private collaboration to expand accessible, affordable, quality childcare and support working women and families.
NYCEDC found over the last year, women were most impacted by the pandemic and in New York City, the industries hit hardest by job loss— restaurants and hotels, healthcare, and retail—have a workforce that is 60 percent female, 67 percent persons of color, and live outside of Manhattan. The research confirmed that lack of childcare access remained one of the greatest obstacles to workforce reentry.
"The past year has shown us how detrimental the pandemic has been for women nationwide, and especially in New York City. The economic impact is clear," said NYCEDC President and CEO Rachel Loeb. "Our Childcare Innovation Lab will be dedicated to addressing the childcare crisis by forging thought leadership around expanding accessible quality childcare options and how to better support working families. We look forward to collaborating with our fellow government agencies and private-sector employers to find innovative solutions that work for all New Yorkers."
In a keynote geared towards the business community, Kate Ryder, Founder and CEO of Maven Clinic, the largest digital health company in women's and family health, presented the business case for supporting parents and their childcare needs. She shared the core principles that underpin the best benefits strategies and called on businesses to think beyond the forming a foundation of support at their own companies and to work with public and private sector partners to create meaningful change for working families.
"It took the disruption of a pandemic to elevate the conversation about childcare to the forefront and get business leaders to view childcare as business-critical infrastructure," said Maven Clinic Founder and CEO, Kate Ryder. "It is my hope that support for family benefits will become table stakes, and that businesses realize they don't have to go at this alone — we can all, from seats in government, in the nonprofit sector, in business, take principled, evidence-based steps to give families the support they need."
"The need for innovative childcare has evolved exponentially since the start of the pandemic. In these unprecedented times, parents have been trying to balance their schedules working from home while caring for their children," said City Council Member Paul Vallone, Chair of the Committee on Economic Development. "The Childcare Innovation Lab will identify and make recommendations so that New Yorkers can have affordable and accessible childcare support to ensure our city's economic growth is maximized."
"Even while affordable, accessible childcare is the bedrock of women's economic mobility, U.S. families have had to figure it out on their own for far too long," said Faye Penn, Executive Director, Women.NYC. It took a pandemic for the country to see how women are held back by our framing of childcare as a private matter rather than as public infrastructure, but we finally have momentum for change. I'm excited for the role our new Childcare Innovation Lab will play in helping government and industry work together to make quality childcare affordable to everyone in New York City."
The Childcare Innovation Lab has commissioned a study from Seramount to give policy and programmatic recommendations that:
Expand accessible, affordable, quality childcare for support working parents and families
Understand key themes driving how NYC employers make decisions about childcare benefits
Create a plan to address how the private sector can support New York City's childcare ecosystem
Identify opportunities across NYC's childcare ecosystem for NYCEDC to deploy its resources
"We're excited to prioritize affordable and accessible childcare as a critical tenet of the City's recovery and long term equitable economic development," said Liat Krawczyk, Childcare Innovation Lab Lead, women.nyc. "We look forward to working with the public and private sectors so that childcare, and those who provide it, are no longer the invisible giants upon which our economy rests."
"It is time to bring innovation to the childcare sector as New York City strives to recover, post-COVID-19," said Sherry Cleary, University Dean, Early Childhood Initiatives at CUNY. "High-quality childcare that is both accessible and affordable is integral to supporting job growth, developing talent, increasing sustainability and ensuring that our youngest generation of New Yorkers have the best chance to thrive in our glorious city."
"Caregivers make up the backbone of our economy, but our workplaces are not built to support the care we need at each stage of life," said Monifa Bandele, Chief Operating Officer of TIME'S UP. "At this pivotal moment, we must all join forces to address the caregiving crisis that has pushed millions of women out of the workforce, jeopardizing family economic security and safety. That's why TIME'S UP launched the Care Economy Business Council, an incredible coalition of more than 200 businesses across industries committed to reimagine our nation's caregiving infrastructure so we can build a stronger, more resilient economy for families, communities, and all of us."
"We are excited to partner with the New York City Economic Development Corporation to help New York City employers find the best solutions for employee childcare," said Subha V. Barry, CEO of Seramount. "With women leaving the workforce in record numbers, and the possibility of in-person work on the horizon, there couldn't be a more important issue right now."
Watch the panel discussion here. To learn more about the Childcare Innovation Lab visit Women.NYC/childcare-innovation-lab.
About NYCEDC 
New York City Economic Development Corporation creates shared prosperity across New York City's five boroughs by strengthening neighborhoods and creating good jobs. NYCEDC works with and for communities to provide them with the resources they need to thrive, and we invest in projects that increase sustainability, support job growth, develop talent, and spark innovation to strengthen the City's competitive advantage. To learn more about our work and initiatives, please visit us on Facebook, Twitter, or Instagram.
About Women.NYC 
When women succeed, the greatest city in the world becomes even better. Women.NYC is a groundbreaking initiative that both inspires women to advance their careers and provides them with the real tools they need for success. From free, expert legal advice, to networking and mentorship, to financial assistance, Women.NYC offers a growing portfolio of resources for working women.
About Maven Clinic 
Maven is the leading digital health company for women's and family health. Its unique care model enables employers and health plans to improve maternal health outcomes and lower costs, while empowering parents to grow their families while growing their careers. Its platform is global, includes personalized programs across fertility, maternity, and parenting/pediatrics, and offers 24/7 access to Maven's proprietary telemedicine network, the largest in women's health. Founded in 2014 by CEO Kate Ryder, Maven was recognized in 2020 as Fast Company's #1 Most Innovative Health Company. Maven has supported over 8 million women and families and raised $92 million in funding from leading investors like Sequoia Capital, Oak HC/FT Partners, Icon Ventures, and Female Founders Fund. Learn more at mavenclinic.com or engage with Maven on LinkedIn, Instagram and Twitter.