Press Release
NYCEDC Launches Social Capital Building Platform "The Women.NYC Network"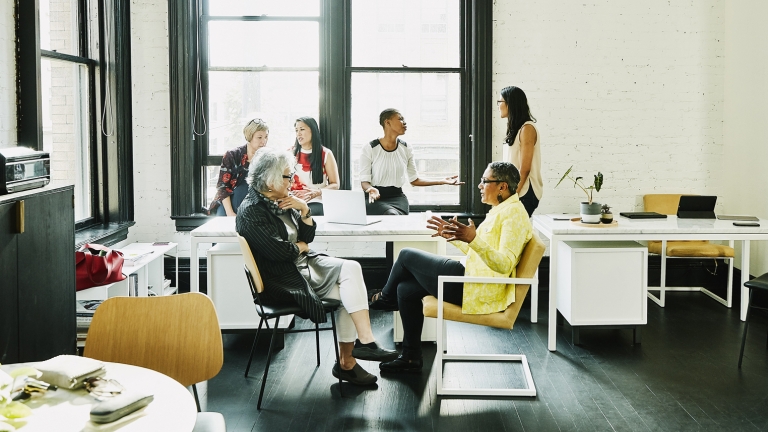 "The Women.NYC Network" Strives to Connect Women with Opportunities in New York City's Emerging Industries and Growing Sectors
A Hub Where Women Learn How to Succeed in High-Growth Sectors by Meeting Industry Leaders, Joining One-On-One Office Hours, Events, and Small Group Sessions Among Other Programs
NEW YORK, NY—New York City Economic Development Corporation (NYCEDC) today announced the next phase of the Women.NYC initiative, The Women.NYC Network. "The Network," is a social capital building platform designed to connect women in New York City with resources to help them excel and identify opportunities in emerging industries namely, offshore wind, life sciences, technology, and green economy. The Network will offer three types of programs to connect women to industry leaders and gain real world experience in new fields, including: virtual one-on-one office hours, small group discussions, and a shadowing experience, in addition to quarterly large-scale events.
To kick off the launch of The Network, NYCEDC and Women.NYC will hold a panel discussion and networking event open to the public. Today's event features welcome remarks from City officials and a panel discussion featuring four women, all of whom will be career advisors in The Network. The panelists are:
Dr. Joan Fallon, Founder and CEO of Curemark;
Tinia Pina, CEO of Re-Nuble;
Rosario Casas, CEO and Co-Founder of BCPartners Tech;
Moderated by Alicia Nieves, Anchor at FINTECH.TV.
"The Women.NYC Network is an innovative program that will break down traditional barriers in male-dominated industries and ensure that women are given an opportunity to not only join but excel in New York City's emerging industries," said Deputy Mayor for Economic and Workforce Development Maria Torres-Springer. "The Network's carefully tailored programming supported by a diverse group of industry leaders will offer women a unique opportunity to explore and connect with New York's future economy. I want to thank all the career advisors who are donating their time and expertise to make this program thrive and look forward to seeing an increase in diverse and female representation across all employment sectors."
"Women account for more than half of the population and nearly half of the workforce but remain underrepresented in the high-wage, high-growth sectors of today and tomorrow, including technology, life sciences, the green economy, and offshore wind," said NYCEDC President and CEO Andrew Kimball. "The Women.NYC Network will offer innovative programs linking women with industry leaders, helping them gain real-world experiences. NYCEDC is proud of its work with Women.NYC to empower and expand access to emerging industries for women throughout the five boroughs."
"Not just as a member of this historic first majority-woman City Council, but especially in my capacity as the Chair of the Council's Committee on Women and Gender Equity, I am excited for the launch of this platform," said Council Member Tiffany Cabán. "For too long, emerging industries have been dominated by men. Initiatives like The Women.NYC Network are just what we need to bring some gender equity to these vital sectors."
"Resources like those provided by 'The Network' initiative are a game changer for entrepreneurs, and in turn will help our local economies citywide continue to thrive. While women make up a large portion of our emerging workforces, our industry's leadership positions are still lacking in representation. As the Co-Chair of the City Council's Women's Caucus, I know the work that Women.nyc and the NYCEDC are doing is making an impact for women citywide. By setting up a model for long-term mentorship and support, women across this city will be given the tools for success while also inspiring the next generation. Thank you, President Andrew Kimball, for funding this crucial initiative and to the Women.NYC team for executing this project," said Council Member Amanda Farías.
"Networking can be hard—especially when you're taking your career in a new direction," said Faye Penn, Executive Director for Women.NYC and Executive Vice President of Initiatives, NYCEDC. "The highly accomplished volunteer advisors in The Women.NYC Network are offering their time and expert insights because they believe in the mission of helping diverse NYC women navigate industries offering high-wage jobs and growth opportunities. Our pilot for this program showed that even one strategic career contact can make a huge difference, and we're excited to unlock powerful connections for women across New York City."
The Network is designed as an entry point for women into high-growth sectors including offshore wind, life sciences, technology, and green economy. These are sectors that New York City has identified for growth and investment, but where gender disparities emerge in a variety of ways. Globally, women account for just 21 percent of the offshore wind industry and 8 percent of senior managers. In New York City, women account for 34 percent of the tech workforce, and just 24 percent of senior managers. Women account for 48 percent of the life sciences workforce overall, but only 10 percent of board members and 20 percent of leaders. The Network aims to close gender gaps in these sectors not only by introducing more women to these industries but also by helping them navigate their careers through coaching and strategic network building activities.
Registration for virtual office hours and small group discussions is currently available on the Women.NYC website, and shadowing opportunities are expected to become available in Fall 2023. Virtual office hours offer 30-minute sessions, available on a first-come-first-served basis, with each of our advisors, who hold a wide range of expertise. These sessions are designed to help participants build their strategic network and help them identify new opportunities in emerging sectors. Small group discussions will be held on a regular basis and will bring together one or two mentors and ten to fifteen attendees to discuss a set topic through a keynote presentation and Q&A session. These sessions will be available virtually and in-person. Shadowing opportunities provide the chance for participants to shadow a participating advisor in their workplace. These opportunities will be designed to allow participants to experience what it would be like to work at each respective company in a leadership position and gain firsthand knowledge of day-to-day operations in unique sectors and businesses.
The primary programming and mentoring sessions will also be complemented by continual on-going events, such as panel discussions and larger-scale networking events aimed to continue attracting new participants and new advisors to the program and allowing all of those involved to continue building their strategic networks. Women.NYC's goal is to connect with over 1,000 women in the first year across all The Network's programming channels. This ambitious goal will continue to grow as The Network is able to expand its list of advisors, offerings, and services.
The inaugural cohort of advisors to join The Network and lead office hours and small group discussions includes:
Alicia Nieves, Anchor, FintechTV
Sonam Velani, Founder and Managing Partner, Streetlife Ventures
Fabianna Rodiguez-Mercado, Co-Founder, Latinas in Tech & Chief of Staff, Cyber Security, Citi
Dr. Joan Fallon, CEO, Curemark
Tinia Pina, CEO, Re-Nuble
Dr. Maria Rahmany, Director of Business Development and Portfolio Management, Columbia University's Technology Transfer Office
Rosario Casas, CEO and Co-Founder, BCPartners Tech
Jessica Weis, Program Director, Women in Energy, Center on Global Energy Policy, Columbia University
Drake Hicks, Head of Strategic Partnerships, Manifest Climate
Fatima Brown, Founder and CEO, Reclassify AI
Charlotte Broadbent, Structural Engineer for Offshore Wind, COWI
Alex Batdorf, CEO, Get Sh!t Done
Regina Gwynn, Co-Founder, Black Women Talk Tech
Ingrid Busson, Head of Global Regulatory Investigations, PayPal
Gayle Jennings-O'Byrne, CEO, Wocstar Capital
Cathleen Trigg-Jones, Founder and CEO, iWomanTV
Miho Shoji, CEO and Co-Founder, Moodbit
Pialy Aditya, Chief Strategy Officer, Republic and Wocstar Capital
Camila Rachmanis, Special Projects Manager, Air Company
"I mentor future professionals in technology because it's important to give back what those before me freely gave me. My virtual one-on-one office hour sessions aim to understand individual circumstances to better guide mentees in the right direction, find their niche, and discover how to add value in the ever-changing tech industry," said Fabianna Rodríguez-Mercado, Chief of Staff, Cyber Security at Citi.
"Mentorship with operators and company builders that have built companies from scratch is so critical for simply preventing the same costly and time-intensive mistakes they once had. Unfortunately, access to these persons is hard and few. That's why it's so important to create a captive community that can engage in trust conversations with company builders. I'm happy to help try to save others money and time and appreciate women.nyc and WOCSTAR's efforts and cultivating this community for us," said Tinia Pina, CEO, Re-Nuble.
"When I was in the New York City government, we had one goal in mind: get more money and power into the hands of women. We've launched several initiatives since 2016 and over 17,000 women have benefited from financing, mentorship, and more to help them succeed in their careers. Life has a way of coming full circle, and now I am thrilled to be a part of the Women.NYC Advisory Network to make sure the next 17,000 women are set up for success. Here's to disrupting the patriarchy, creating wildly successful companies, and building the world we want to live in!" said Sonam Velani, Founder and Managing Partner at Streetlife Ventures.
"Women helping women is quintessential New York and what makes New York City the ideal place for the growth of future industries," said Gayle Jennings-O'Byrne, CEO, Wocstar Capital. "I am honored that I and the women at Wocstar Capital are able to join a diverse group of dynamic career women who are growing the City's economy."
"The Women.NYC Network is a unique opportunity to expand your knowledge, your connections and your horizons," said Ruth Ann Harnisch, President of the Harnisch Foundation, a funder of The Women.NYC Network.
"Women have been relying on others to validate and value us for centuries. It's about time we see ourselves as the brilliant, capable, powerhouses that we truly are! Thank you to the Women.NYC network for reminding us of the power we yield when women support women," said Cathleen Trigg-Jones, Founder and CEO, iWomanTV.
While each of the mentors are donating their time, funding comes from NYCEDC and The Harnisch Foundation. The Network partners with Wocstar for operational support, programming, and in-person events.
The Network builds off previous programming and infrastructure from the Women.NYC initiative which piloted a successful virtual office hours program in 2021-2022 to help connect women with mentors across all industries during the Covid-19 pandemic.
Women.NYC is a City initiative, launched in 2018, created to help women of all backgrounds succeed in their businesses and careers. Currently, Women.NYC is focused on implementing tools and strategies to help connect women with careers in New York City's future economy and emerging industries.
More information on Women.NYC and The Women.NYC Network can be found on our website. While offerings are geared towards women, people of all genders and identities are welcome to utilize Women.NYC and The Women.NYC Network's programming and resources.
About NYCEDC   
New York City Economic Development Corporation is a mission-driven, nonprofit organization that creates shared prosperity across New York City by strengthening neighborhoods and creating good jobs. We work with and for communities to bring emerging industries to New York City; develop spaces and facilities for businesses; empower New Yorkers through training and skill-building; and invest in sustainable and innovative projects that make the city a great place to live and work. To learn more about what we do, visit us on Facebook, Twitter, LinkedIn, and Instagram.
About Women.NYC   
Women.NYC—part of the New York City Economic Development Corporation—is an ambitious program created to make sure the city remains the best place in the world for women of all backgrounds to thrive in their careers, run businesses and launch startups. Women.NYC advances gender equality and fosters economic mobility by creating strategic partnerships with public and private sector partners, by launching tailored programming, and by amplifying all of the city's economic empowerment programs.
About Wocstar Capital   
Early-stage investment fund focused on tech innovation being brought to market by inclusive teams and women of color, WOCSTARS. WOCSTAR Fund is changing the trajectory for investors and businesses building, innovating and thriving in a digital, borderless world. We are actively investing in companies and technology that are redefining how we will consume content and resources, work, learn, build wealth and create a sustainable world.